Welcome to Downtown Mount Prospect! The Mount Prospect Downtown Merchants Association is a organization run by downtown businesses that hosts community events and promotions to benefit the community and your favorite downtown businesses. Our "Events" tab has more information about our past and upcoming events. Check out our members lists and stop in to find out about the latest downtown events and the downtown directory!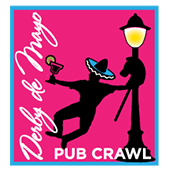 Derby de Mayo Pub Crawl – May 1
Online registration is now closed for the Derby de Mayo PUB CRAWL on May 1!
Walkup registration is welcome and you must bring exact cash at $15 per person.
Face Shield not guaranteed without pre-registration.
Locations include Canta Napoli, Emerson's Ale House, Mrs. P & Me, Sam's Place, Mia's Cantina, and Station 34. We have to do things a bit differently this year due to COVID-19, but we know you will understand.