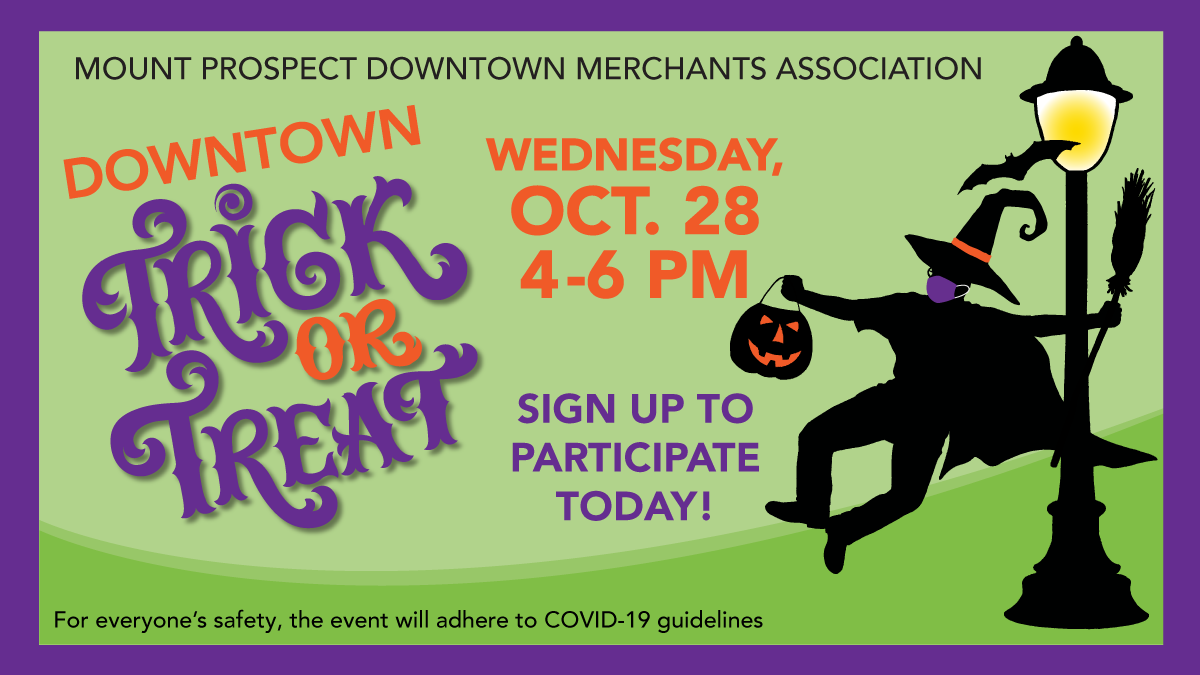 Dear Mount Prospect Business Owner:
Join Mount Prospect Downtown Merchants Association (MPDMA) for our 2nd Annual Downtown Trick or Treat – Wednesday, October 28, 2020 from 4:00pm to 6:00pm.
Registered businesses will receive an orange poster to place on their door or window indicating their participation. Businesses that would like to offer a non-food item can receive a teal poster indicating they are a friendly site for trick-or-treaters with food allergies (learn more about the Teal Pumpkin Project at www.foodallergy.org). On the day of the event: (1) Hang your poster at the entrance of your place of business – make sure those walking by can see it! (2) Share treats with visitors!
To participate in this event, please complete the form below and return it to MPDMA by October 9th. You may
1) E-mail the completed PDF form to Trisha or Chris
2) Complete the form on the MPDMA website (see below): 
3) Or call Trisha Chokshi at (847) 346-2509 or Chris Bozonelos at (847) 293-1339
We will have a running list of participating sites on the MPDMA website and social media. A map with all sites will also be printed. We encourage you to register early so your business is included on the map!
All participating sites MUST follow COVID-19 safety guidelines. Specifically:
1) Masks must be worn by anyone handing out treats AND trick-or-treaters and their families;
2) Gloves must be worn by anyone handing out treats;
3) All treats must be individually wrapped;
4) Treats should be passed out by directly placing it into kids' buckets or spaced out on a table or cookie sheet for easy pick up; do not use baskets for trick-or-treaters to pick through;
5) Maintain adequate distancing on site and avoid forming a crowd (for example, place limits on entry – one family in, one family out).
6) If possible, consider setting up your treat table near or outside your door where there is more room to form a line and maintain distance. Do not, however, block sidewalks or use the street for lines.
If you have any questions, please feel free to contact Trisha or 847-346-2509) or Chris (chrisbozonelos@gmail.com or 847-293-1339).