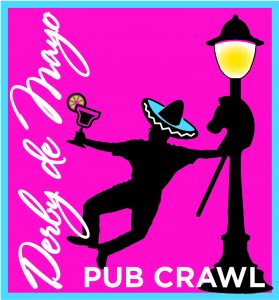 The Mount Prospect Downtown Merchants Association (MPDMA) is announcing a new event – the "Derby de Mayo" Pub Crawl – to be held on Saturday, May 5, 2018 beginning at 3:00 pm.
Registration is $10 and includes a pub crawl t-shirt. Online registration is closed. Walkups are welcome but T-Shirts are sold out!  The registration deadline (to receive a t-shirt) is April 23rd. Space is limited, so reserve your spot today! Last day to register online is May 4th. Walkups on the day of the event are welcome (t-shirt not guaranteed).
On the day of the event, Saturday, May 5, participants can check-in for the "Derby de Mayo" Pub Crawl starting at 2:30 p.m. at the Village Green at Mount Prospect's Village Hall, 50 S. Emerson Street.
Participating venues in the Pub Crawl include Mount Prospect favorites like Brick City Tavern, Canta Napoli, Emerson's Ale House, Le Peep Café & Pub, Mrs. P & Me, Sam's Place and Trezero's.
Participants must visit each location and have their tickets punched in order to complete the "crawl" and to be eligible for the raffle. The raffle will be held at the Village Hall Parking Garage (50 S. Emerson St.) at 7:00 p.m. Raffle prizes include gift cards to participating restaurants/bars. Winners need not be present to win.
Parking for the event is available in the Village Hall Parking Garage located at 50 S. Emerson Street and plenty of parking is located in downtown Mount Prospect. Additionally, Downtown Mount Prospect is conveniently located along the Metra Union Pacific Northwest Line. For fares and schedules, visit metrarail.com.
Interested in sponsoring the event? Sponsor Registration
Thank you to event sponsors:
Anderson Tax & Accounting LTD., B & E Accounting Services, Busse Automotive,
Byte Me! Computers, Capannari Ice Cream, Keefer's Pharmacy,
Law Office of Mark J. Watychowicz, P.C., MB Financial,
Picket Fence Realty, Van Driel's Medical Support Wear Shop, The Wildbird Shack
and Village of Mount Prospect.